In most business-to-business companies, customers don't get the attention they deserve. 'Worthless' customers receive far too much attention, valuable customers often too little. So it is good to divide your attention fairly, according to value. But should you only look at the profits of now when dividing your attention? With new customers you always have start-up costs, which you will earn back later in the relationship.
And isn't a customer worth more than money? Many companies like ASML as a customer, if only because it ranks so well on their customer list. And an innovative startup may not bring you much yet, but you can learn from it. All these questions can be answered with one concept: 'Customer Lifetime Value', or the 'value' that a customer provides you during your relationship. If you apply the CLV properly, you can give customers the attention they deserve.
In this article, we're going to discuss all of these topics: what is customer lifetime value? How do you calculate this CLV in the B2B market? What customer values are there besides money? And how do you calculate it? But we also discuss the ethical side of this topic: are you allowed to discriminate against customers? I have a few important caveats about that.
In the knowledge I have gathered about the CLV, I rely heavily on the work that Marco Kuijten performed for me years ago as an intern. I recently made this theoretical subject a lot more practical for a client. That's where the professors who write about this subject usually stop (trust me, Marco and I have spoken to them), the practice is unruly and professors don't know them.
What is Customer Lifetime Value?
According to Wikipedia, the CLV is a 'prediction of the profit (preferably net, see below) you can earn during the relationship with a customer'. In the B2C market, you can take the term 'lifetime' quite literally: you only lose a loyal customer when they die. This also explains why it is difficult to get a mortgage in old age: the CLV is no longer that high.
😎 Tooltips of the month for marketers!
Project Management Software for b2b marketers 👇
In the B2B market, lifetime refers mainly to the moment the company goes bankrupt. At Statistics Netherlands you can, for example, collect statistics per industry about the 'survival probabilities' (in construction, for example, much lower than in furniture construction) per sector. As a customer, a company can of course leave earlier than before bankruptcy, when that will happen is of course difficult to predict. An indicator for this could be the 'retention rate': what percentage of the customers you had at the beginning of the year are still there at the end (excluding new hires)? If you can calculate that over the past few years, it may be a good indication of the future.
What can you do with the CLV?
The main purpose of the CLV is to give the customers the value they deserve, or as Don Peppers and Martha Rogers once said "All customers are equal, but some customers are more equal than others." If, for example, there is a shortage of raw materials or man-hours in your company, you naturally want to prevent the 'worst' customers who happen to be the first to ring the bell (whether or not prompted by the representative!) to take the loot.
Concrete examples of applications of the CLV:
There is a shortage of raw materials, the customers with the highest CLV come first;
You have a shortage of man hours, the customers with the highest CLV are served first;
Customers with the highest CLV get the most time and attention from sellers;
Customers with the highest CLV receive the best/most promotional gifts;
Customers with the highest CLV are supplied the fastest.
And of course there are many more applications to consider.
Which values fall under the CLV?
Of course, money is an important (perhaps the most important) value of a customer. There are also three 'strategic values' of a customer, which we will discuss later: learning effects, scale effects and network effects.
1. Total Absolute Net Profit
A customer's 'purest' indicator is the total absolute net profit you earn from it over its 'lifetime'. After all, you can earn a lot of gross profit from a customer, if this customer incurs a lot of costs (a lot of contact, high logistics requirements, far away, etc.) you may not earn anything. Unfortunately, many companies do not have the net profit per customer available, or there are many snags to this number. The latter is also logical, how do you divide indirect costs - such as the salary of the director - 'fairly' among the customers?
An important disadvantage of the net profit as an indicator for CLV is that the customer determines only a small part of the costs. If your company has two warehouses, which means that an ordering customer might have two trucks at the door at the same time for a varied order, it is the result of your logistical choices. The customer is then 'innocent'.
2. Gross Profit
A less perfect - but often practical - alternative to the net profit is therefore the gross profit: per customer it is usually known how much the turnover is and which purchasing costs you can deduct from this.
In addition to financial value, there are also strategic values
As you know, profit isn't everything, not even in CLV. A customer who buys a lot but is not profitable will cover a lot of your fixed costs. Suppose you decide to say goodbye to large loss-making customers, you will lose a significant part of your coverage of the costs of your accommodation and logistics. That loss is then passed on to the other customers.
1. Scale effect
In addition to profit, you should also look at 'scale effects': what does a customer still give you (even if not profitable) in terms of covering your costs? Or greater purchasing power towards suppliers? Or a larger occupation of your machines? Or logistical synergy, because your trucks drive around empty less often?
2. Learning effect
Another strategic value is the learning effect: what relevant knowledge does a customer -even if not profitable- provide you? Is it an innovative company from which you learn a lot? Is the company willing to spend a lot of time on feedback, so that you will also improve yourself - for example through their supplier assessments? Or is the customer perhaps willing to be a guinea pig for your ideas?
But you can also view this 'innovation' in different ways: your customer may not develop new products (product innovation), but is very innovative in its business processes (process innovation), which improves your outgoing logistics, for example. Or perhaps the entire market in which this customer is located is very innovative/instructive.
3. Network value
The third strategic value that is important next to profit is the network value: How interesting is this client's network, even if it's not profitable? Does the company have a large network, or a high-quality network? Is the customer willing to be an ambassador for you in that network, in order to help you find new customers (or new employees)? Does the customer have a strong image, so that they are well on your customer list?
In summary: in addition to the profit that a customer brings you, you also have to look at the effects of scale, learning effects and network effects.
How do you calculate the CLV?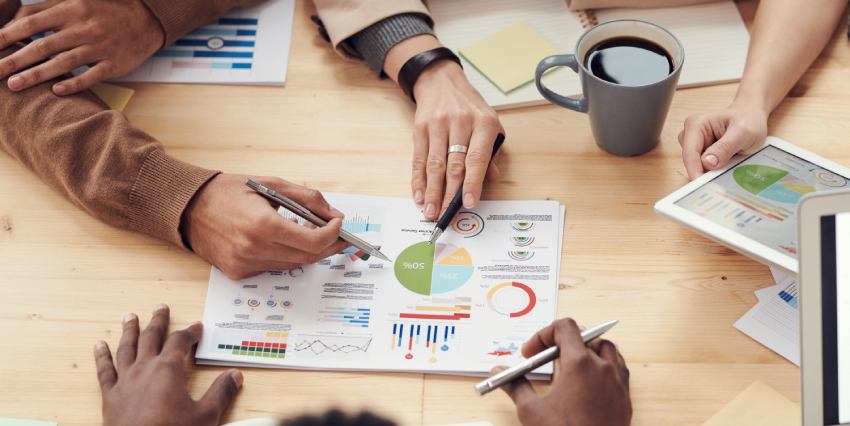 The profit per customer (during their 'lifetime' with you) can be expressed in euros, unfortunately the strategic values cannot be calculated 'scientifically'. Scaling effects are of course partly quantitative (you know the volume that your customer purchases), but does that really make it easier for you to negotiate with your suppliers? How much easier?
The strategic values will therefore always have to be estimates by the people who know the customer best, for example in the form of reports from representatives. There are, of course, many caveats:
Often there is only one representative per customer who dares to give report marks, but this representative only sees a part of reality. Is he aware of the customer's net profit? Often not even of the gross profit.
Sellers will consciously or unconsciously tend to rank their customers highly.
A term like 'innovativeness' obviously has a different meaning for everyone.
The trick is therefore to ensure that 1) you have as many assessors as possible per customer and 2) that you properly instruct the people who have to give the scores, so that differences in interpretation have as little effect as possible.
Because your CLV now consists of a euro amount and a stack of report marks, you will also have to convert that euro amount into a report mark. You can do that by dividing the euro value (eg gross profit) by the maximum value of all customers, multiplied by 10.
Score
Because the financial value is so important in relation to each of the strategic values, you will also have to weigh the report numbers. For example, you give the report mark of the financial value 50% weight, the report marks of each of the three strategic values a weight of 16.7% (*3=50%). At the bottom of this article is a link to an Excel file that you can use for this.
Notes on using CLV
If you decide to discriminate against customers, there are a few things to keep in mind.
The most important advice: don't communicate it to customers. There are several examples of companies that have communicated to customers that they are of little value, even requesting (therefore) to find another supplier. This has resulted in a lot of negative PR, also in the outside world, so that they usually regret this action in the end.
Even companies that only told their good customers that they would be served better from now on because of their high CLV, were criticized for that. Customers do not want to be openly discriminated against, not even positively.
Of course a customer can notice. You can consciously choose to get rid of your 'bleeders' (the least valuable customers) in more subtle ways, for example by raising prices. Two things can then happen: if the customer accepts it, it is no longer a bleeder (due to the higher prices), or the customer decides to switch supplier.
What works even better than turning customers off is starting the conversation. Tell the customer that this will cost you a lot, often they are not aware of this and they do not want it. Who would want a good supplier to go bankrupt? Often, after such a conversation, a loss-making customer suddenly becomes profitable.
When using CLV, also note that it is an instrument and not a belief. Do not let the CLV make the decisions, there must always be a person in between. What you can agree on is that deviations from the 'best decision based on the CLV' must be presented to the manager and explained. If you think that a D customer should still be visited (or receive an end-of-year gift), explain why.
Concrete implementation


We have prepared an Excel file for you with which you can calculate the CLV per customer. In the first cell at the top left you see the manual as a comment (move the mouse over it), as soon as you have pasted the customers and their profit in the tab, you see the first report numbers (for financial value) automatically appear.
You can then plan a session with the representatives, where they receive a printout of the Excel file, with an explanation of the intention and the definitions (see Excel). Then you will give grades for an hour as a class, during which questions can of course be asked to the organization or possibly to the group.
At the end you will have a CLV score per customer, which you should preferably upload in your CRM/customer system. From that moment on, nothing stands in your way of giving customers the attention they deserve.
👉 Download the Excel file here
Photo by fauxels through Pexels
Also read:
How do you calculate the ROI of Content Marketing?
Sign up for the weekly newsletter
🚀 2000+ marketing professionals preceded you!