E-mail marketing has experienced significant growth in B2B marketing in recent years. In 2017, more than 30% of marketers increased the budget for the deployment of email marketing (This year, 33 percent of companies increase the budget for email marketing, including in B2B.
It Online Mailing The instrument is frequently used for both new business purposes and marketing to current customers and is generally seen as an effective and result-oriented tool for the B2B marketer. E-mail marketing is relatively cheap, easily measurable and offers many possibilities, which makes it attractive for the B2B challenges.
What is email marketing?
Email marketing is the process of sending emails to prospects and customers to inform or convert.
E-mail marketing can vary from sending a periodic newsletter to support the brand and relationship management to a sales tool to achieve more sales. The basis for good e-mail marketing is the database with e-mail addresses and other prospect or customer data. A mailing can be sent from this database via an e-mail tool or ESP (e-mail service provider).
In most cases, e-mail tools have options for analyzing the extent to which the e-mail has arrived properly, opened and to what extent links in the e-mail have been clicked through.
email marketing benefits
Email marketing is popular among b2b marketers. It is an effective and measurable way of 1 on 1 communication. It is not for nothing that there has been a growth in email marketing tools for years. The advantages at a glance;
😎 Tooltips of the month for marketers!
Project Management Software for b2b marketers 👇
1. Lead Time & Timing
Setting up or adding an email shot as part of a campaign is relatively quick. If the content is available, you will have sent the b2b mailer within a week if desired. In addition, it is fairly easy to determine when a message should reach the target group. B2B email marketing can be used for campaigns but also for quick (sales) promotions.
2. Low CPC of Email Marketing
The Cost Per Contact is relatively low with b2b e-mail marketing, certainly in comparison with other means such as telemarketing or direct mailings by post. By working with standard templates, the reuse of existing content and the use of integrated systems (such as a link with CRM for automatically importing lists into the e-mail tool), the lead time is short and production costs are limited.
3. Design and technique
The layout options for b2b email marketing templates are extensive and offer many opportunities to visually support a message. In addition, there are direct conversion options that can be applied. Moreover, there are more and more new possibilities with email marketing with the arrival of HTML 5.
This makes more technically possible and we will see moving images and direct interaction possibilities in e-mails in the near future. Most e-mail tools that create e-mail newsletters offer good options for correct display on different devices and support mobile-first designs. An online mailing is therefore a means that is where the target group is with impact.
4. Personalization
In principle, all fields from the CRM database or from the e-mailing list can be used in e-mailings to address the recipient personally. This makes email marketing more personal and in many cases increases the extent to which the email is opened, read and clicked through. An example of personalization in email marketing could be:
'Dear sir Jansen ( Because organizations in the wholesale industry (

In this example, your own name, industry and company name have been loaded from the database in order to make the online mailing as specific as possible and thus increase the chance of scoring.
5. Accountability of email marketing
Today's B2B marketer is under considerable pressure and must provide insights into budget spending and the results of campaigns. Email marketing offers excellent opportunities to provide insight into the results of campaigns. With reasonable accuracy, statements can be made about the number of opened e-mails, the number of clicks, etc. In addition, response is displayed quickly, so that you have almost immediate insight into the return on your mailing. In relation to traditional media, email marketing is easily measurable.
6. Autoresponder
Another advantage of email marketing is that automatic mailings can be set up that are sent when the prospect/customer takes a certain action. An example:
A website visitor downloads a whitepaper and leaves an email address in return. He hereby also gives permission to receive the e-mail newsletter. The visitor will immediately receive an e-mail containing the link to the whitepaper.

A few days later, the visitor receives another e-mail in which the whitepaper is discussed and an extra piece of content is offered. The visitor clicks on the link in the email. The visitor then receives an online mailing with more information about that subject.

After a week, the visitor receives (if no action has been taken yet) an invitation to meet one of the new business sales employees.
All the online mailings from this example of the benefits of email marketing are preset autoresponders.
email marketing software
With the rise of e-mail marketing, the number of e-mail tools has also grown explosively. A multitude of software packages have emerged that help the marketer to use email marketing. The possibilities are becoming increasingly extensive and advanced to be able to email as efficiently and effectively as possible. The number of providers in the Netherlands is large.

A selection from the offer:
Integration with other systems
Lately we have seen more and more integration between email marketing tools and other software tools such as CRM software. We also see e-mail tools with which the marketer can set up complete campaigns with variable content based on the preferences of the respondent.

By integrating email marketing software with other systems, interesting possibilities for personalization arise (as described earlier).

But it can also improve the analysis of the success of mailings. Consider, for example, a link between a duck email marketing package and Google Analytics. By creating this link, clicks on landing pages with the origin of specific mailings can be seen.
email marketing and legislation
We have described it before on this site; today's b2b marketer is a jack-of-all-trades with knowledge of various areas. there belongs legislation also with. In recent years, the legislation in the field of telemarketing and e-mail marketing has been tightened considerably.

Clear permission must be given for e-mailing prospects and even customers cannot simply be bombarded with commercial messages. You can find more information about this on this blog or at the industry association for Direct Marketing; DDMA.


Youtube: eduvision.info/emailmarketing


On b2bmarketeers.nl we write about the possibilities of email marketing and take a close look at everything that has to do with it! Read all about email marketing here:
Reading tips about email marketing:

Book tip:

Successful Email Marketing – Marc Bongers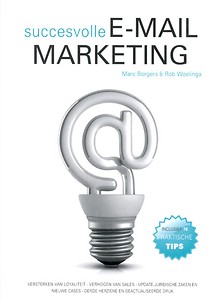 Sign up for the weekly newsletter🚀 2000+ marketing professionals preceded you!