Lead generation includes all activities aimed at coming into contact with potential customers customers. In the business-to-business, lead generation can be both a sales and a marketing activity. There are many ways to generate the coveted leads. People often speak of below the line marketing when it comes to lead generation resources.
New B2B Lead Generation Techniques
For a number of years we have seen new lead generation techniques emerge from the emergence of inbound marketing and content marketing. Online lead generation like email marketing, white paper marketing are common variants at the moment. In this method, content is used as a means to enter into an initial interaction with target groups. At a certain point, for example before downloading a Whitepaper, you will be asked for information from the prospect such as an email address.
At that moment one can speak of a Marketing Qualified Lead. After offering the white paper, emails can be sent automatically to further process the prospect and eventually convert it into a lead, or hot lead.
Marketing automation providers are responding to b2b lead generation and lead nurturing by supporting the marketer through automation to deploy the marketing resources as efficiently and effectively as possible.
How does a B2B Lead Generation funnel work?
There is no unambiguous definition about leads and prospects. Every company has its own interpretation of this. What you often see is that a funnel is applied in which phases are defined of a certain maturity of a lead. A common funnel is:
Suspect – Prospect – Lead (MQL) – Hotlead (SQL) – Customer.
😎 Tooltips of the month for marketers!
Project Management Software for b2b marketers 👇
On the basis of lead qualification standards determines whether a prospect is suitable to proceed to the next stage. Such a funnel can also be used to determine for which phase lead generation should be set up.
What is the difference between acquisition and lead generation?
In the business-to-business environment, the terms acquisition and lead generation are often used interchangeably. In many cases this means the same thing. There is no hard dividing line between the disciplines, although you could say that lead generation belongs to the marketing activities that are part of the acquisition process.
Acquisition relates to the generation of new orders and is usually done by Sales, Business Development and Account Management. Cold calling or warm calling can be made. With cold calling, companies are approached (often by telephone, via e-mail or social media) without any previous contact or interaction.
When it comes to hot acquisition, it's about following up on previously generated leads to convert them into assignments. For instance:
The follow-up of completed contact forms


The follow-up of contacts who have downloaded a Whitepaper


The follow-up of contacts who have received a series of emails and a DM by post
So you could say that making an acquisition involves the entire process from making contact to the final sale. Where lead generation relates to the generation of sales opportunities that can eventually lead to orders. Lead generation is therefore at the front of the acquisition process.
In practice we see different variants of these activities at B2B organizations. The eventual conversion of MQL (marketing qualified leads) to SQL (Sales Qualified Leads) is often done via email marketing, forms (trial requests, for example) or by telephone.
Lead generation campaign example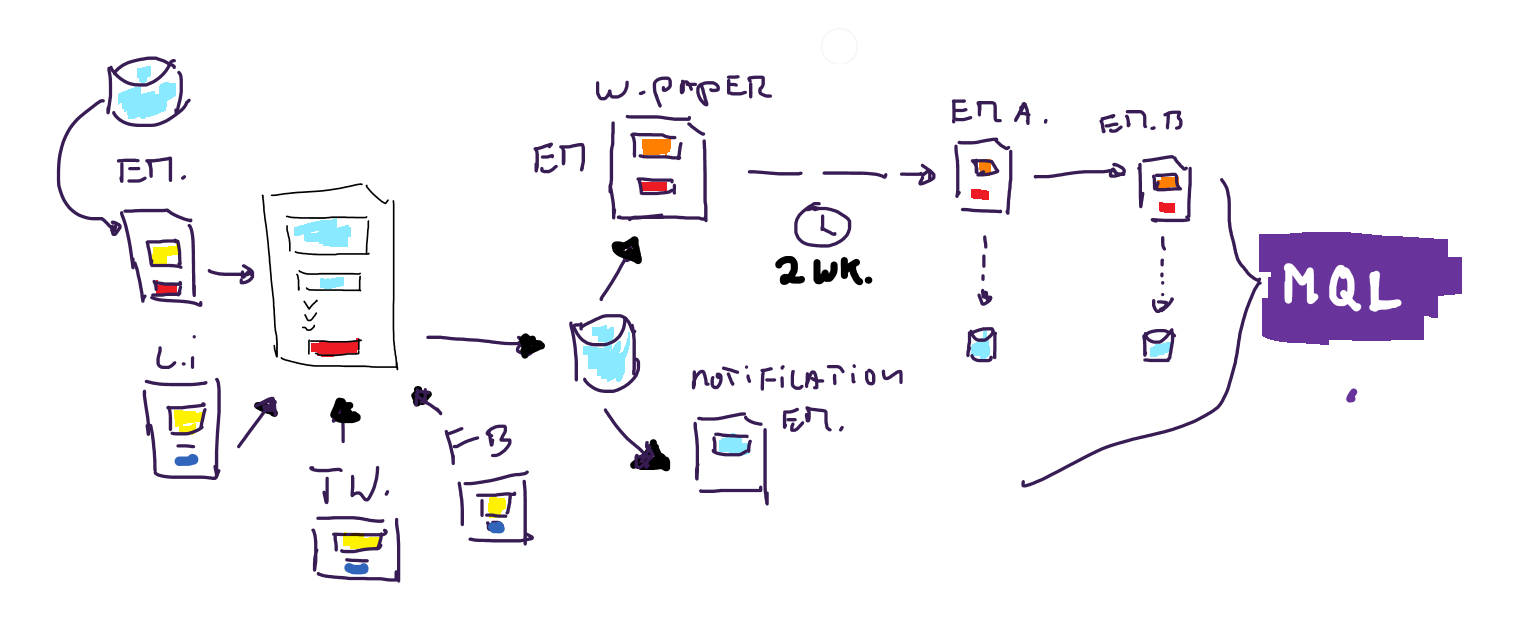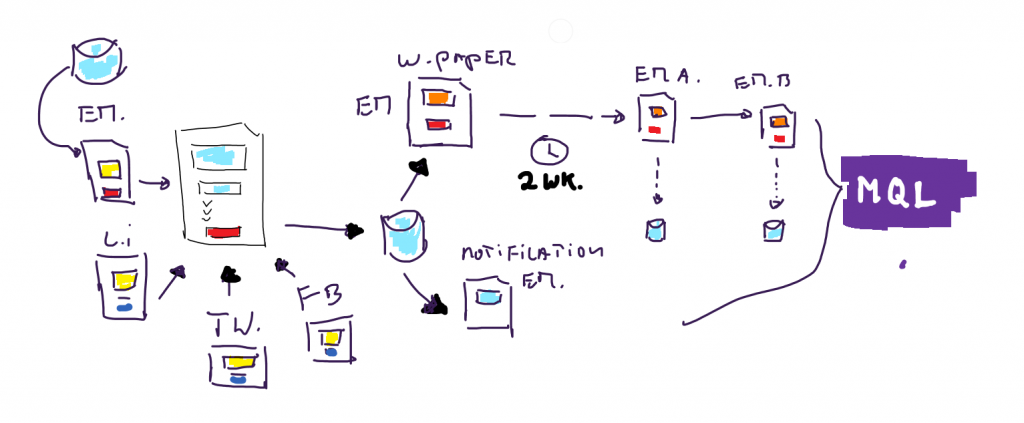 Lead generation can be a campaign activity or a so-called always-on activity. Resources used for lead generation include: trade fairs/events, telemarketing, direct mail, email marketing, networking, b2b lead generation websites, comparison sites, search marketing, Linkedin Advertising, Google Adwords and even Facebook Advertising.
A lead generation campaign can consist of multiple means to get an optimal result from the market.
An example campaign to acquire potential customers for a fictitious company:
A service provider sees opportunities to offer an advisory product to the ICT market in North Brabant. The product is especially suitable for small and medium-sized enterprises with 20 to 100 employees. There is an ongoing positioning campaign that focuses on: "Advice with guarantee". A creative lead generation campaign is being devised for this with an online advice tool as a lead generation magnet.

The steps look like this:
Campaign step 1: Database enrichment of the target group
The target group is partly mapped, the remaining part of the companies within the target group is purchased from an address supplier and enriched by telephone enrichment. A number of in-depth questions are also asked here to explore a specific need and determine the 'fit' with the company and the service provision. Based on this enrichment, a group of 300 companies remains, each with two important contact persons.
Campaign Step 2: A DM with Call-to-Action
The target group receives a creative mailing with a call-to-action to fill in a tool via a campaign landing page that already releases a first part of the advice. This is possible in exchange for filling in a number of details.
Campaign Step 3: An Email with Call-to-Action
The group for which an e-mail address is also known will receive an e-mail with a similar message that also refers to the landing page.
Campaign step 4: Companies are called back

Contact persons are called to make an inventory of further needs and to schedule introductory appointments. Because the target group is too large to be able to reach every individual by telephone, a segment is made of the target group based on company size, region and other information that is already known. The companies that have been in contact with before are at the top of the list.
Campaign step 5: The database is further enriched

The CRM system is enriched with information obtained for follow-up campaigns. Contacts who have performed a certain action (clicking on an email, visiting the landing page or filling out the tool) all receive their own lead nurturing campaign consisting of certain follow-up emails via a marketing automation flow.
Campaign Step 6: Results
The balance is drawn up; how much has the lead generation campaign yielded? What is the ROI, what went well and what could be improved next time? The results are expressed in:
– the number of Marketing Qualified Leads, Sales Qualified Leads and deals.
– the number of enriched addresses for subsequent campaigns

This is an example of a lead generation campaign. All kinds of variants are possible here. Instead of a DM one can also choose to set up a sharp target group in LinkedIn and offer the advice tool or a white paper through ads to further pick up leads from there.
What is the advantage of B2B Lead Generation?
By focusing on the generation of leads and directing the marketing efforts to this, the marketing resources are optimally deployed from a short-term return perspective.
By actively generating leads, the chance of sales increases. B2B lead generation also increases the predictability of the organization. If it is clear how many leads lead to a specific number of orders, a prediction can be made for future sales.
In addition, with B2B lead generation, the results of marketing campaigns are clearly visible, which can be calculated back to costs per lead.
What is the disadvantage of b2b lead generation?
Focusing solely on lead generation and not working on brand building and branding may reduce the return on lead generation campaigns. Campaigns aimed at concretely generating sales opportunities focus on a certain phase in the customer journey.

If there is no brand knowledge or awareness, the message can come across incorrectly or simply lack impact. In the marketing world, therefore, the focus is often on brand awareness and brand building on the one hand and lead generation on the other. In this context also speaks to me about above the line or below the line.
Success factors of good lead generation
With a successful lead generation campaign you efficiently get the right sales opportunities from the market. To do this as well as possible, a number of factors are important, we will highlight five of them:
A high-quality database. The better the database, the easier it is to get the most return from marketing activities. A database with high-quality addresses and the correct information about the intended customers makes it easier to focus the message on the relevant prospect and the means has the highest return.


A good definition of a lead is important; what exactly do you want to achieve and how are you going to achieve it? Do you want to collect e-mail addresses and do you see them as leads or is it about concrete sales agreements with a view on a specific project? The more concrete the lead, the higher the eventual chance of a sale.


Brand awareness is a plus; it is not necessary but can make a lot of difference; a strong brand to start from. A lead generation campaign from Microsoft that already contains a certain brand load is something completely different from a lead generation campaign from an unknown SME.

That does not mean that a company should first fully focus on loading the brand and building awareness; it is only important to take into account the strength (or the weakness/unfamiliarity) of a brand when setting up a lead generation campaign.


The right message is essential. If the expressions of the campaign are not based on a strong message, it is very difficult to be successful. A great campaign with a great resource set but an ill-considered message and promise will not resonate with the target group. So ensure a proposition that is rock solid and take it to the market.


Collaboration between sales and marketing. More often discussed in the world of b2b marketing; the better sales and marketing work together, the greater the chance of relevant campaigns that contribute to the success of both departments. Sales knows what is going on with the customer and ultimately has to ensure a follow-up of the leads that have been generated. It is therefore not wrong to seek cooperation in the preparation, implementation and follow-up of the campaign in order to achieve the highest possible return.
Lead Generation Software Tools
The software world dives into every development that is popular, including lead generation. Software to help users find new customers is therefore available in all shapes and sizes. You could say that all software for marketers and sales is focused on lead generation. We will highlight a number of types of tools.
CRM software
We've mentioned it before in this article: a good CRM system can help sales and marketing enormously in generating and editing leads. By performing actions on prospects from a CRM package, these interactions can be recorded in the relationship card. This creates opportunities to develop new activities based on that data to generate new sales opportunities.
Examples of CRM software:
Other examples of CRM software:
Dynamics 365 CRM
SalesForce
SuperOffice
Email Marketing & Marketing Automation
To set up lead generation campaigns, you often cannot avoid email marketing and marketing automation. This tooling helps you compose, send and monitor e-mail messages to target groups. Interactions can also be recorded and follow-up actions fired automatically. Think of automatically sending other e-mails based on click behavior or after downloading a file. Marketing automation software helps you create campaigns, interact with target groups, lead nurturing, lead scoring, reporting and more.
Examples of email marketing and marketing automation tools:
LinkedIn
LinkedIn is a tool that has more and more to offer for lead generation. Not only as a marketing channel where you can recruit new customers through posts, advertising and lead generation campaigns. LinkedIn also has tools that you as a sales or marketing department can use to spot sales opportunities in the market. LinkedIn Sales Navigator is now a commonly used example. It allows users to search for and approach leads.
LinkedIn Lead Generation Software:
Website visitor identification tools
A tool that we have seen a lot in online marketing in recent years is website identification software. This is software that you can use to identify website visitors, for example on the basis of the outgoing IP address. By linking this data to a company database and other data, complete customer profiles can be obtained based on the website visit. It is also possible to respond to which pages have been visited and content can be offered that matches the visitor profile. This type of software is also seen as lead generation software or lead generation tool.
Examples of website visitor identification software:
Lead Generation Blogs
Sign up for the weekly newsletter
🚀 2000+ marketing professionals preceded you!