How chatbot software is conquering the world of conversational marketing
Your customers hate it: standing in 'queue' for hours to be able to contact customer service. Companies are working hard on it: they try to deploy customer service personnel as effectively and efficiently as possible, so that customers can be served optimally and quickly. Yet you do not necessarily need staff for the latter. With an online chatbot, customers can be helped easily, quickly and cheaply. As a result, the queues shrink and the positive experiences about the service grow. In this article I explain what a chatbot exactly entails, what types there are and how you can best use a chatbot for your company.
1. 'A chatbot', what exactly is that?
A chatbot is an automated interlocutor, in other words a robot that can chat.
Conversational marketing tools such as chatbots have received a boost in recent years. During the COVID pandemic, digitization has taken extra steps and we are also seeing a huge increase in the use of chatbots in B2B marketing, as shown by the recently released Forrester report (Digitized Journeys, Expanding Options, And Maturing Segments Define Today's B2B Martech Stack).
Some examples of chat software (we'll go into more detail about this later in the article):
A chat box can have a conversation with one customer or with several customers. The customer sends a text, from which the bot detects landmarks. On the basis of this pattern recognition, he sends back a text or performs an action. The bot can not only type texts, it can also ask questions (if you set the bot that way). This makes a bot extremely suitable for customer service. This way a bot can answer the frequently asked simple questions.
An example of a chatbot application;
A logistics service provider is going to deploy a chatbot. The customer can ask the chatbot software when his/her cargo will be delivered. The bot can then answer this question by, for example, requesting the customer's track and trace information. When the customer has provided this information, the bot can reply with the delivery times and any additional information. This conversation is carried out fully automatically, so you no longer have to deploy staff to answer these kinds of questions.
2. Different types of chatbots for your conversational marketing
There are different types of bots. The most common bots are the rule-based bot, the artificial intelligence bot and the hybrid bot.
Rule-based bot .
This bot is simple and targeted. This bot works on the basis of a fixed pattern. This pattern has been drawn up by the maker, the bot cannot deviate from this. As a result, the customer cannot ask free questions, because the creator has set up the bot. So a fixed scenario is played with this bot.
Artificial intelligence bot
This bot works on the basis of a large database. The customer asks this bot a question and based on this question, the bot searches for landmarks in the database. Based on this question analysis, the bot gives an appropriate answer. Machine learning ensures that this bot is continuously updated and the database is constantly expanded. This makes the bot ever smarter. Chatbot AI is a trend that continues to develop and is indispensable in the world of conversational marketing.
Hybrid bot (with live chat) 🙋‍♀️
The hybrid bot can conduct both scripted conversations and free conversations. First of all, the scripted conversations follow. Following are the free questions. If the free questions are 'too difficult' for the hybrid bot (if it does not understand the question), the customer is automatically connected to an employee. This saves time and costs: first the customer is helped by the hybrid bot. Only after the customer does not come up with a solution with the hybrid bot, the employee is called in. Simple questions can therefore be directly helped with the hybid bot.
3. Chatbot software providers, some examples
Not only are there different types of bots, there are also different types of chatbot software. Here we discuss a number of examples of chat software providers.
CM.com
A Dutch provider of chatbots is CM.com. CM is active in the field of Conversational Commerce. Conversational Commerce focuses on the exchange of information between companies and brands with its customers and online payments. The information exchange mainly takes place on popular media chosen by the customer, such as WhatsApp. The exchange of information can therefore be aimed at marketing, but also at service. Because both the information exchange and the payment take place on the same platform, the customer experiences a lot of convenience. Information about the customer is stored in the customer profile.
Trengo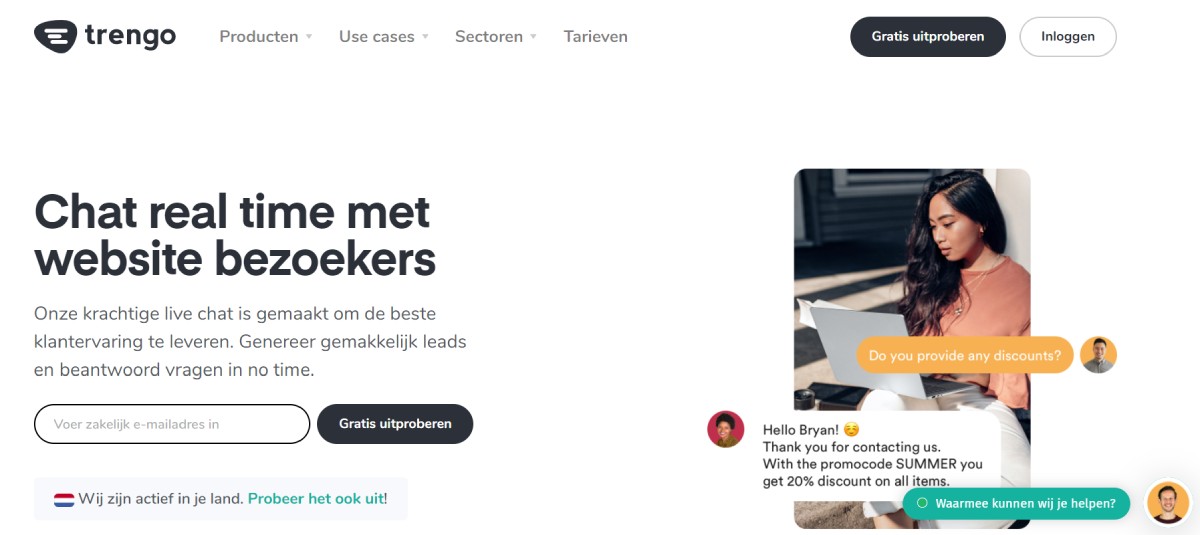 Another brand is Trengo. Well-known stores such as MediaMarkt, Bever and Travelbags already use Trengo. Trengo offers you one box in which all relevant means of communication are displayed, such as SMS, WhatsApp and Instagram. This is also known as the 'team inbox'. With this box you can not only communicate with the customer (externally), you can also communicate with each other (internally) within your company. Moreover, you can not only exchange information between your customer or your team, you can also analyze the internet behavior of customers on your website.
Trengo also offers a separate 'bot package'. This chatbot from Trengo automatically answers questions from customers. If the bot does not come to an agreement with the customer, it refers this customer to the right employee.
You only need to create one chatbot, because it can be used on all communication channels. Also at Trengo you have different blocks in which you can put information, answers and questions. You have to combine these blocks (so that you create flows). You can set yourself at Trengo when the bot is online. For example, you can choose to have the bot 'closed' during the weekend. On the other hand, you can also choose that the bot is online 24/7.
👉 To the website of Trengo website
Freshchat
Besides CM.com and Trengo you also have the brand Freshchat. Freshchat's bots are relatively simple, but have an artificial intelligence. This means that they observe the user behavior of visitors and can therefore also predict. The bots can respond to this, for example by starting a conversation with a visitor or sending proactive marketing messages to the user. In addition, you can use the bot of Freshchat connect to your own or external bot.
Continually
A well-known bot software is 'Continually'. This chatbot software is seen by many as easy to use chatbot software and is free up to 1,000 website visits. Continually allows you to create simple bots. This is how you start by entering a question and creating answers. You can then visually link these questions and answers together. With Continally you can also decide for yourself how many bots you develop and where this bot should be placed. For example, you can create a bot on every part of your website.
👉 To the website of Continually
BotStar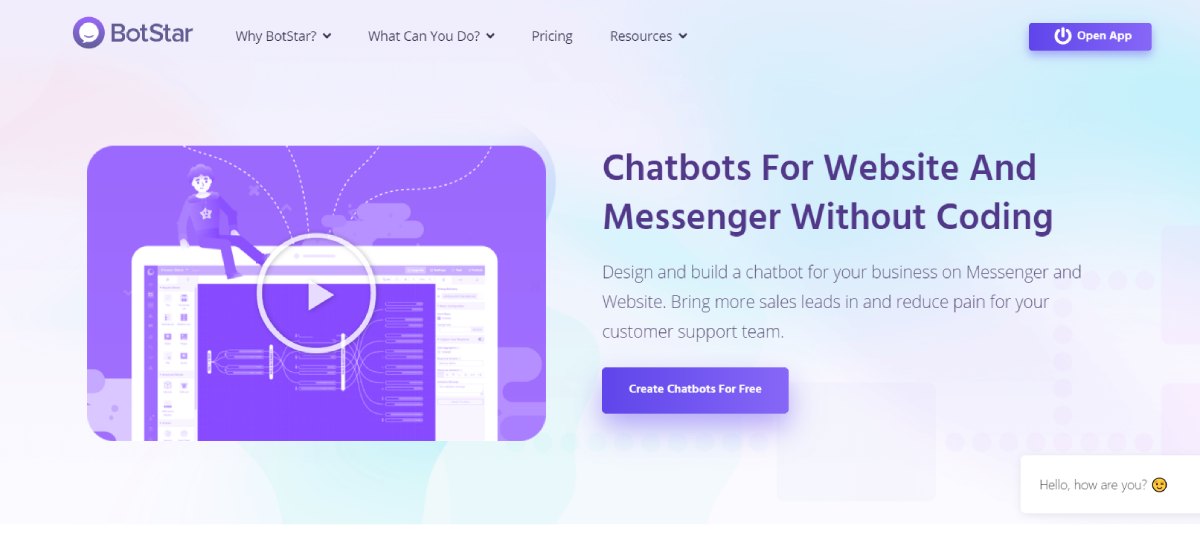 Another popular chat box software vendor is BotStar. BotStar is slightly more difficult to use than Continually at the start because BotStar has more functionalities. At BotStar you make a visual Bot Builder, where you can link different blocks (which contain a question or an answer). This linking is also known as creating flows. You have different types of blocks at BotStar:

– Basic Blocks: here you can put an answer, but information, images et cetera.

– Advanced Blocks: you can use these blocks if you want the bot to execute a fixed script.

– Action Blocks: you can use these blocks to have the bot perform a certain action, for example sending an email or adding a subscriber.
The most complicated part of this software is making the flows, or combining the different blocks. For example, you start with a Basic Block (you ask a question, for example: What can I do for you?). You link this question (Basic Block) to one or more answers (Basic Blocks). If you want to save this answer you have to add an Action Block (action = save). Because you have to do all these different actions, using BotStar takes more time than Continually. With BotStar you can therefore make more complicated bots than with Continually.
ManyChat
A well-known brand of mobile chat software is ManyChat. Manychat was the largest bot software brand in 2019 and also the most searched chatbot brand. Manychat uses Facebook Messenger. For example, you can automate your customer service on the Facebook Messenger page by setting up a bot based on flows (linking questions, answers and actions). Customers can ask questions online via the chatbot to which they automatically receive an answer, but also the other way around. This way you can ask questions to customers through the bot. Based on these answers, you can discover the wishes and needs of the (potential) customer. You can create a free account on Manychat.com and link it to your Facebook page.
Zendesk
Well-known companies such as Swapfiets, Shopify, Trustpilot, are familiar with chatbots. These companies use Zendesk's bots. Just like Trengo, Zendesk also offers an all-in-one box, in which all communication takes place within one box. This box contains, for example, a live chat, a knowledge base, but also a bot that can send messages to customers via social media. This is of course very effective, because today's young people spend more time on the social media page of the company in question than the website of the company in question.
You don't have to go for the entire package at Zendesk, so you can also just go for the 'bot' package, for example. The bot of this live chat can answer questions from customers, but also analyze and respond to customer behavior, for example.
An example that Zendesk itself gives is that they have a bot that helps potential customers with their checkout. If the bot detects that the customer wants to checkout, it starts an automatic conversation with the customer in which it explains how the checkout works. The figures show that there is a smaller amount of abandoned shopping baskets as a result.
👉 To the Zendesk website website
4. How do I choose the right chat bot?
Choosing the right bot and software is super important! For example, you can go for a simple bot that can only answer the programmed questions, but you can also go for a somewhat 'smarter' bot that can also answer free questions from customers. This makes it important to first collect all information about the user behavior of your customers, and then analyze this. Does your customer service 90% get the same questions? Then a simple bot may suffice. Do you get a lot of different questions? Then a smarter bot might be better.
The target group determines the conversation
You can also choose the middle way by choosing a simple bot, which automatically forwards the free questions, the questions to which it does not have an answer, to an employee. So it is important to analyze customer behavior first.
Also consider your target audience. For example, does your target group consist of junior marketers? Then choose a bot that can also send messages via social media. This is because young people use a lot of social media and favorite platforms can be found here to communicate.
What do you want to do for your target group with the chat bot?
\Besides the fact that you have to look closely at the behavior of your visitors, it is also important to check what you want. For example, do you want documentation? So that the bot saves the user history or not? Also look to the future. You may not find documentation required at the moment, but when your company grows or expands, for example, you want it.
It may also be the case that you now only want to be able to communicate via the website, but that you may want to expand to, for example, Facebook Messenger in the future. Does the bot offer this option?
5. The benefits of a chat bot for your organization
With an online chatbot, your company is present 24/7 (if you wish). This way, customers can ask a question to this bot at any time. This increases your accessibility.
In addition, the queues at customer service are shorter, because the simple questions can be solved by means of the bot. This has a positive effect on the reputation of customer service: customers are helped quickly and purposefully. The bot can also respond directly to customer usage behaviour. If the bot notices that the customer has a full shopping cart, he can respond to this by helping this user with the checkout.
Saving costs through efficient use of chat bot
This increases customer satisfaction. You also save costs when you use a bot. Once a bot is created, it works with respect to every user. It is a higher investment in the beginning, but in the long run you will get a return on this investment. This is because you can save on personnel costs, because you need fewer physically present people at customer service.
Quality of contact
Moreover, a bot does not make you dependent/less dependent on (the mood of) your staff. A customer service representative can 'not have his or her day' and come across as customer unfriendly. A bone can't get irritated, a human can. Moreover, you yourself have influence on the conversations and how these conversations go. This way you can compose the answers and the information that the user receives during the chat yourself. You are in control.
A bot can also be a 'fast learner'. If you choose a bot that improves itself based on the user history and adapts to the customer, this ensures that the customer gets an even better experience in the long run.
6. The disadvantages of working with a chatbot
Every advantage has its disadvantage, and so does the chatbot online. Because you can choose a bot that teaches itself things, it is also possible that the bot teaches itself the wrong answer, or makes spelling mistakes. This is extremely frustrating for the customer: if he/she asks a question and gets the wrong answer every time. A bot is and remains a robot and can therefore not solve this just like a human being by optimally responding to emotions.
In addition, it can be a high investment. In this way, you incur short-term development costs and implementation costs in the beginning. In the long run, you can earn back this investment by, for example, saving on personnel costs and increasing conversions. For that, the chatbot must of course be properly developed and last for a long time.
7. The Trends for 2021 and Beyond: Machine Learning and Voice Control in Conversational Marketing
The use of chatbots and live chat solutions is a trend in itself in the online playing field. Companies see applications for chat in various areas such as sales and customer service. Major trends that are visible in society are becoming intertwined with tools such as chat software. Clear trends are; machine learning, voice control and payment via chatbots.
Machine Learning
One of the trends in 2021 regarding these chatbots is that they teach themselves. Previously, chatbots were mainly used to answer frequently asked questions, so these bots worked via a fixed script. In 2020, the 'smarter' bot will become more attractive: it stores the customer's user history, browser history and other data so that it can now respond to the wishes and needs of the customer. This also allows free (non-scripted) conversations to take place.
Voice control
What we also see as a trend is the 'voice control' bot. This bot does not communicate through typed conversations, but communicates through a voice. So there is actually 'talking' with the customer. It is possible that a customer only finds this annoying and prefers to have a conversation safely behind his / her phone. Companies are also responding to this by increasingly allowing the bot to communicate via WhatsApp, because this is often the most popular means of communication with customers.
Pay via bots
As mentioned before, it is also increasingly common that the customer can not only have conversations with the bot, but can also pay via the bot. If the bot notices that the customer is interested in a product and the customer adds it to his/her shopping cart, the bot can help the customer with the checkout. By making payment easy, customers buy the products faster.
8. DO'S and DONT'S when implementing chatbot software
It is important to ensure that the customer has the idea that he is really being helped by a person. So, for example, make sure that your bot gets a name and a personality.
Tone-of-voice of the target group
Play here again on your target group. For example, if your target group is 'teenagers', respond to this by not making the language use old-fashioned, but by using trendy words. So what you should not do is really set the bot up as a robot, try to give the bot 'feel'. So type sentences that a human will also use.
Example chatbot tone of voice:
👎 "One moment please"

👍 "I'm going to take a look for you! Do you have a little moment for me?"
So make sure that the language of the bot is not too formal. By using formal language at the bot, the customer gets the idea that he/she is actually being helped by a robot. He will experience this as negative; Doesn't the company even have decent customer service with people who really understand and answer my questions well? Can the company only answer me by deploying robots?
Improve customer service by combining chatbots with live chat
In short: a chatbot improves the quality of your customer service, provided this bot is set up and created properly. By using these bots, customer service is deployed more effectively, because the bot can answer the simple and most frequently asked questions directly. If you get a lot of different questions, it might be useful to combine the use of bots with people (live chats). This allows the bot to answer the simple and scripted questions and the more complicated free questions are automatically forwarded to the staff.
Purchase products and services directly via the chatbot
Also pay attention to the type of business you have. If you have a webshop, you can ensure that the customer can not only talk to the bot, but that the customer can also pay via the bot. This simplifies the payment process for the customer, so that he will buy things from you faster. Many people leave their shopping cart if the payment process becomes too complicated.
Also consider your target audience. Respond to the needs and interests of your audience by, for example, adapting the bot's answers to the way your audience talks (teenagers talk to each other very differently than, for example, business partners).
Chatbot through the right channel; where the target audience is
Base your customer service on the communication tool your customers prefer to use. This again boosts the reputation of your customer service. If the customer can contact your company in an easy way, for example through WhatsApp, it will get a more positive impression than if the customer has to fill in a contact form first, then send an email, and then wait 5 working days on an answer. A chatbot online can fix this! Is your target audience Facebook-minded? Then make sure you offer the chatbot via Facebook messenger, for example.
Grip on the chat software
You can create your bot all by yourself, leaving you in control. Moreover, you can choose to keep your bot online 24/7, giving customers the idea that they can contact you 24/7. Create your own bot and ensure effective, targeted and qualitative customer service: a win-win situation, for customers, staff and costs.
Integrations with other systems
Various CRM tools and marketing tools now also offer Chat functionality. You can also opt for a solution that has been specially developed as chatbot software and link it to existing systems. Most chat software solutions offer integrations with CRM systems, CMS systems and accounting software.
Also read these articles about chatbots, chatbot software and conversational marketing
👉 My experiences after 100 conversations with a b2b chatbot
👉 Compare chatbot software; find your chatbot software with this handy comparison tool
👉 Read how chatbots and virtual assistants can perform well
👉 What is chatbot AI and what can you do with it?
Sign up for the weekly newsletter
🚀 2000+ marketing professionals preceded you!