Content Marketing is a commonly used term in b2b marketing at this time. A definition of Content Marketing is:
A form of marketing (branding) where the provision of relevant information (content) for the target group is central.
Another definition of content marketing find you here.
You mainly bind customers by offering relevant content. Content that really helps the customer. In the right format, through the right channel, at the right time. Content that ensures communication and interaction. Between customers and between customer and organization. That's content marketing.

(Joery Bruijntjes)
Content Marketing and the b2b marketer
What else is content marketing? By providing meaningful information for target groups that is not directly linked to the products or services, you offer added value and create a bond with the organization. In b2b marketing we see this way of content creation back more and more.
Companies are moving to the knowledge and interest domain of the target group through Content Marketing and in this way create new opportunities to enter into dialogue. Informational pages are being set up and companies are going en masse blogging. We also talk about business blogging business blogging. This is about it telling stories about the organization, products, services and what is happening in the industry.
By consistently distributing content that is both relevant and valuable to target markets, organizations build reputation and authority. Various marketing channels are used to distribute content: from blogs and podcasts, emails, newsletters, white papers and ezines – and each finds its place in a total usable content marketing strategy.
What is the purpose of Content Marketing?
The goal of content marketing is to attract prospects and engage customers.
Through Content Marketing, a substantive connection is made with the prospect or customer to entice them to take the next step in the funnel. For example, leaving an email address or other information. By producing content, companies also work to improve findability and build thought leadership to build strong connections with the target audience.
What does Content Marketing deliver?
A recurring question is: nice that Content Marketing, but what does it deliver at the bottom? What is the ROI of Content Marketing? How do you recoup the efforts and investments? If we look at the growing investments in content, a clear ROI should be visible. Recent research shows that in the United States more than 90% of B2B marketers are focusing on Content Marketing (See the full study here).
How do you calculate this ROI? You can read this in these articles:
Insight into B2B Content Marketing
Content marketing is informing, educating, and communicating with customers without advertising or sales. Rather than offering a sales pitch, provide the information your target audience needs through print, digital, audio, video, or events.
The strategy behind content marketing is that the potential buyer is triggered by the content and eventually sees the organization or person as a potential strategic partner.
Useful or inspiring information
Effective content marketing focuses less on directly increasing sales and going straight for what potential customers want most: useful information. It is especially important that the information is valuable and relevant. Customers and prospects have a clear picture of what is believable and what is not. Buyers expect professionalism and expertise.
Quality and content
Content creation in many cases requires high-quality content and a professional appearance. By using templates for infographics, white papers and social media content you guarantee quality. Apps like Instasize make it easy for brands to set up templates and layouts for social media content so that the marketing message always looks strong.
Customers and prospects will appreciate the efforts of organizations and be grateful for the information. It is a form of investing, investing in customers and prospects so that they will make an investment back.
A commonly used term in this context is also: Conversation Marketing; in which dialogue with the customer is central, not to be confused with collecting likes or retweets.
Also read:
What is the advantage of content marketing?
Content Marketing is a way to work on brand awareness, brand value and lead generation in a sustainable way. That's what makes it such a popular form of marketing right now. The advantages of content marketing can therefore be stated in several areas. We'll go through some of them in this article.
1. Content Marketing is sustainable
An investment in content marketing can (if used properly) pay off for a longer period of time. For example, a good article with advice can lead to visitors for months, if not years. And with that to more knowledge leadership and leads.
2. Content marketing is multi-deployable
If you create a high quality page you can offer it in different ways. First of all, this article can serve as a magnet for website visitors because it obtains a certain position in the search engines such as Google or Bing. Because of this magnet function, the website gets more visitors. There is also a good chance that these visitors are interested in the article because they came to it through an active search.
However, you can also use the page to offer, in a modified form, as a blog post for placement on third party platforms. With this you expand your visibility and you also work on knowledge leadership in this way. Last but not least, you can also use this to generate traffic to your own website.
The content can also be used in email marketing campaigns to share valuable content with target groups.
Another possibility for the use of the article is to pay for it through online marketing campaigns. Think of LinkedIn, Facebook or Google advertising.
3. Content is valuable to the target audience
Perhaps the most important advantage: content is interesting for the target group. The whole idea of content marketing is that relevant content products are offered from which target groups derive value. Which means; the reader is helped to solve the problem, to set up a process or, for example, to be inspired.
4. Content marketing comes in countless forms
An advantage for the marketer is that content marketing can be used in many ways. The form can be perfectly adapted to the target group and the phase in the customer journey of a prospect or customer. One time it is a blog post, the other time a vlog, a webinar or an infographic.
So what is the disadvantage of Content Marketing?
Content marketing also has drawbacks. We'll go through some of them.
It takes time
It can take a while before you start generating reach through content marketing. Especially if you compare it to other forms of marketing. With a budget on linkedin advertising, facebook advertising or, for example, Google advertising you can reach a lot of people in a short time and if you do it right; generate leads. Time is needed to properly deploy content marketing, especially if it has to generate organic traffic.

Content Marketing can be a significant investment
Because you have to come from good houses to inspire, inform and surprise target groups, you need quality content in the right quantities. This requires a pre-investment that will only pay for itself later. Think of copywriters, video producers or podcast producers.
Content marketing education & training
Content marketing has become an indispensable part of any marketing mix. There are also many courses and training that can help you set up or optimize your content marketing strategy and implementation. These courses focus on various aspects of content marketing such as:
setting up a content marketing strategy,
the use of content via social media
or the ideal structure of texts.


Content Marketing Tip!
Look at the Content Marketing education section of Springest, here you will find more than 100 Content Marketing courses!


Customer Buyer Journey & Buyer Personas
To generate good content in a Content Marketing strategy with an effective content planning, you can delve into the target group by mapping the Customer Buyer Journey. On the basis of Buyer Personas determine how the target group is oriented, which content they consume at which times, what they feel about it, etc. You can then respond to this by creating content and distributing it.
A content matrix can then be drawn up for each Buyer Persona in which it is clear when which content is offered for which phase in the Customer Buyer Journey.
content marketing; Keep the product in the pocket
As a company, you are involved in a specific field, a specific domain on a daily basis. In a way, you are also an expert in that. Using that expertise is what it's all about. A growing number of companies are now blogging, participating in discussions and distributing content via various platforms (twitter, youtube, email newsletters, etc.).
Content Marketing is an intensive form of marketing and requires a different view of communication. The messages are much less product- and service-oriented and are focused on the wishes of target groups. And it's hard work. Thought Leadership is the aim.
Thought Leadership as a goal
Thought leadership is based on a certain authority in a specific field. You could say; a thought leader is a guru in a certain field. The expertise is the distinctive character, the added value of the company. This means that special knowledge of markets, customers, legislation, developments and customers is required. Brands are charged by being the authority, not so much by advertising or advertising activities. Many organizations pay a lot of attention to this issue from their Content Marketing strategy.
An interesting development in this regard is the use of knowledge from the organization. There is usually a lot of knowledge within the entire organization; the trick is obviously; how do you get this knowledge out and how do you come to a concrete Content Marketing strategy.
evergreen content
A commonly used form of thought leaderhip is the use of evergreen content. This is content that is relevant forever and generates visitors for a longer period of time. This is also usually content that underlines expertise in certain topics. evergreen content often consists of definitions and explanatory articles.
Interruption Marketing vs Invitation Marketing
Old school marketing breaks into the prospect's information process. This is opposite Invitation Marketing; where we make sure that the prospect finds us based on the wishes he has. With the regular way of advertising you break into the consumer, as it were. Instead of pushing your information, you now use the prospect's searches as a guideline for serving content.
Marketing is therefore a more friendly way of bringing products and services to the attention. Content marketing trends on b2b marketers.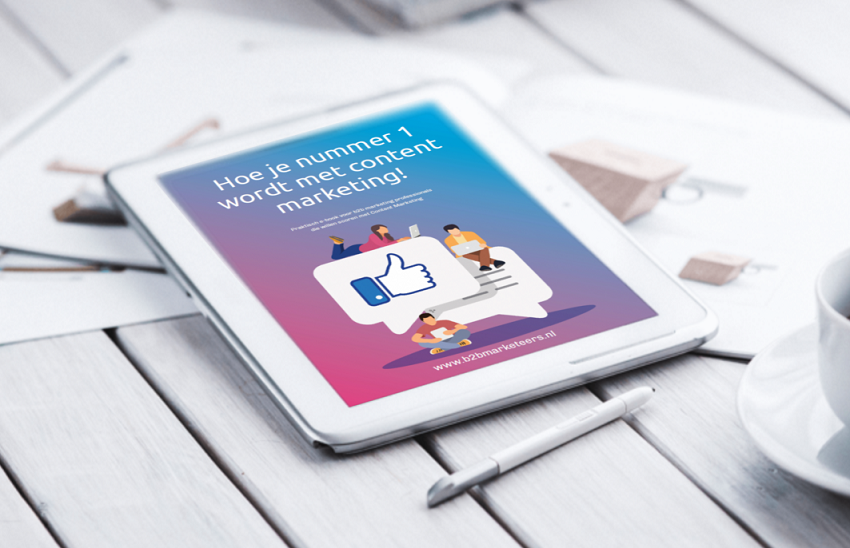 Content Marketing and SEO
Offering varied content (on your own site and that of third parties) makes a positive contribution to findability in search engines. So you also see the footprint of . in content marketing search engine marketing coming back. Texts are written with the customer's wishes in mind, but they are sharp when it comes to the search engine friendliness of texts, for example by processing important keywords.
Quantity = more leads
Research also shows that there is a relationship between the quantity of content and the number of leads a website generates. However flat it may seem; more content means more leads. This immediately calls for a nuance; quality and relevance are indispensable; not only for the findability but also for the conversion. Because converting findable content into sales opportunities is only possible with relevant, high-quality content.
on b2b marketeers.nl we investigate the trends and possibilities in the field of Content Marketing.
Youtube: Friday SEOmoz
Inbound Marketing
Marketers often distinguish between inbound marketing and outbound marketing. In recent years we have seen a huge inbound marketing resources and strategies. The developments of the internet have made a major contribution to this. Because we are increasingly orienting ourselves online (and buying products) more often and more intensively, 'being found' seems to be one of the most important pillars in current marketing strategies.
The inbound marketer mainly starts from the principle that customers should find you at times and places that they choose. This is at odds with the more proactive approach we see in outbound marketing (direct mail, email marketing, telemarketing, advertising, etc.).
Attractive content
Inbound Marketing is based on the creation of content that matches the target group when it comes to tone-of-voice and content. The content should not only be relevant, but also be findable. In addition, inbound marketers ensure that the content is there, wherever the target group is. Think of blogging and micro-blogging (twitter).
Content Marketing is not inbound marketing
Content Marketing is part of Inbound Marketing. This is not the same by the way; content marketing is about providing relevant information. This can be done via online and offline means. Inbound Marketing is about attracting website visitors. Basically there are similarities; Offering relevant information plays an essential role in both Inbound Marketing and Content Marketing. The increase in Content Marketing and Inbound Marketing also brings an increase in b2b marketing automation with him.
The ideal marketing mix
Most marketers look for a mix between inbound and outbound marketing. In recent years, we have seen studies appearing that show that budgets are shifting and more focus is being placed on inbound marketing. However, setting up a solid content marketing strategy takes a lot of time and demands a lot from the organization. Hands-on and pragmatic marketing therefore remains popular. We are also still seeing interesting and predictable returns from well-thought-out outbound campaigns. Moreover, the two forms of marketing can reinforce each other and we see inbound and outbound as a total mix of ways to reach and bind target groups.
Content creation
The biggest challenge of content marketing lies in Content creation. There are countless forms of content and ways to generate it, making it sometimes difficult to keep an overview. Marketers often work with a Content formula, a stepping stone to support their content creation. This consists of certain themes, guidelines for the form and often the tone of voice. The content formula can be compared with an editorial formula of a magazine.
By using a thorough content planning, marketers maintain an overview of the distribution of the produced articles, videos, blogs, white papers, etc. Content Curation is also a way to create content. Then you use third-party content to create new content. Think of a blog post, a discussion, a research interpretation, etc.
Interesting report on business blogging can be found here: blogging trends in 2011
b2b marketing research 2012 (Marketingprofs, Contentmarketinginstitute)
Frequently asked questions about Content Marketing
What is a Content Marketing Strategy?
A content Marketing Strategy is a collection of elements that ensures that you will achieve results with Content Marketing. A Content Marketing strategy often consists of: Research into the market and buyer persona, a description of the phases in the Customer Journey, determining themes and topics, devising the tone of voice and channels and a content marketing calendar
Why do you need content marketing?
Content Marketing helps to strengthen your online findability, thought leadership, convincing prospects and customers
What does content marketing cost?
The costs of Content Marketing can vary and depend on form and quality. An 800 word blog post costs between 150 and 450 euros. A Whitepaper can also cost 2000,-.

How do you create a content marketing plan?
To get concrete returns from your content marketing, it is wise to start from a content marketing plan. You can read how to set this up in this article: Create a content marketing plan for b2b.
More blog articles about Content Marketing
Opinion blogs and interviews about content marketing
Also read:
Sign up for the weekly newsletter
🚀 2000+ marketing professionals preceded you!